CAREER SEEKERS
Post Resume
Post your resume to receive free e-mailed jobs that match your criteria. Take advantage of
VaultMatch
.
Search Jobs
Search over 35,000 postings for top job openings on the Vault Job Board.
MBA Career Channel
Visit the Vault MBA Career Channel for MBA career guides, discussion boards, job boards and more.
Company Profiles
Get the insider scoop! Access Vault's exclusive library of Career Guides and Company Profiles. Visit Vault's Bookstore.
Resume Distribution Service
Tap into the hidden opportunities!
. Have your resume hand-matched and distributed to targeted markets that match your criteria. Or use the resume blaster or distribution services to maximize your market saturation.


Skill Certifications
Measure your skills
with a FREE online certification exam.
Certification and assessment tests are available in the areas of financial, language, health care, and IT skills, in addition to administrative skills assessments. Over 400 tests to evaluate your abilities and validate your presentation.
Salary Negotiations
Find out what you're worth
. Use the
Salary Calculator
from Salary.com to make quick a quick determination of the average salary.
You may want your own copy of the book that provides even more details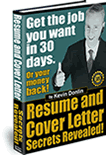 Resume and Cover Letter Secrets Revealed, by Kevin Donlin a do-it-yourself manual that will help you find a job in 30 days ... or your money back.