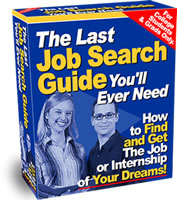 The Last Job Search Guide You'll Ever Need
This comprehensive anthology of advice from leading career and job search experts and published by CollegeRecruiter.com, The Last Job Search Guide You'll Ever Need covers the obvious regarding cover letters, resumes, and interviews, and then goes beyond to provide wisdom on how to keep the best job you've ever wanted and then successfully advance in it.



Kevin Donlin provides insightful information about driving home the beginnings of your job search -- the resume and cover letter -- and how to make them stand out from all of the others. More than just cover letters and resumes, Donlin also offers valuable advice on other important career search strategies that are certain to make you one of those who will be remembered for your positive attributes -- and hired!