Resume Distribution Service
Tap into the hidden job market!
Have your resume hand-matched and distributed to targeted markets that match your criteria. Or use the resume blaster or distribution services to maximize your market saturation.
Receive resumes specifically matched to your search and sourcing needs. Or sign up for the blaster or distribution services to increase your awareness of available talent.
Skill Certifications and Assessments
Career Seekers:
Measure your skills
with a FREE online certification exam. Over 400 tests are available to evaluate and validate your abilities.
Recruiters:
Use the
Business Solutions
to maximize your in-house or external evaluation of talent to screen, assess and qualify talent.
Use the
Salary Negotiation Tool
to increase desirable, effective salary negotiations and outcomes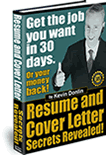 You may want your own copy of the book that provides even more details
Resume and Cover Letter Secrets Revealed
, by Kevin Donlin a do-it-yourself manual that will help you find a job in 30 days ... or your money back.